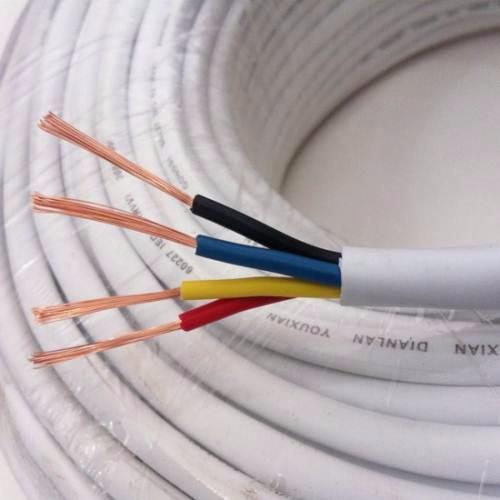 Flexible electrical wire is essential in numerous consumer and industrial applications. Crane hoists rely heavily on flexible wires in order to transmit energy between the operator panel and the crane lifts. The best example of flexible wire is an old telephone wire that used to twist and provide users with flexibility if they pulled it. Flexibility in wiring doesn't occur by accident - it's achieved through smart engineering and applying high-quality material on each wire that enables us to produce flexible wires. The most popular flexible wire is an RVV wire, which we offer for sale at ZW Cable.
What Are Flex Cables Used For?
We understand that many cable movements are required for consumer electronics, vehicles, industrial machines, and other systems that rely on constant movement. This matters for machines that carry out repetitive motions on a daily basis. By taking the time to understand the flex requirements of particular applications, ZW Cable was able to engineer a range of flexible wires for various industrial applications.
This guide will show you the basics of flexible wires, how to choose a wire, and what product features go into the most popular flexible wires. When you're looking at cables for sale you might notice different terms such as "flex cable", "flexible cable", and "flexy cable". What do these terms stand for, what are the best materials, and how do you decide which cable you need? Keep reading because we'll explain the details below.
RVV Cables: Best-Selling Flex Cables
Our best-selling flexible cable is the "RVV Cable". This flexible electrical wire is used in a whole range of machines and vehicles that require repetitive movement. For instance, you can find RVV cables under the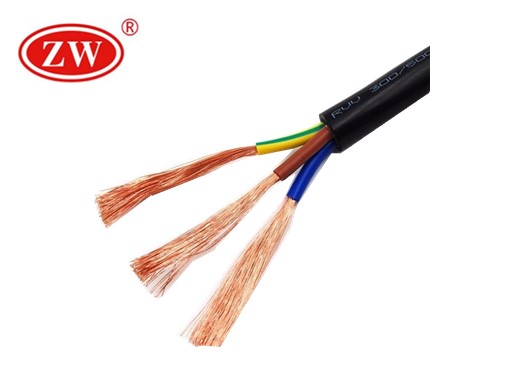 hood of man household appliances such as fridges and microwaves. RVV cables are also used for smart light systems and other light fixtures for transmitting control signals. They are also suitable for smart systems that transmit power signals.
RVV cables are used for power lines and electric lines. The RVV cables we provide at ZW Cable have CCC certifications that meet the standards of the Chinese, EU, and North American markets.
RVV cables (as the most popular flexible electrical wire cables) are PVC insulated/sheltered cables and sometimes known as "Light PVC" flexible cables. Previously, they were known as "sheathed wires". There is a high variety of RVV cables, depending on your needs. For instance, certain RVV cables have a rated voltage of 300 volts while others have 500 volts. RVV cables can range from 2 core up to 24 core.
Top 5 Features Of Flexible Electric Cables
The latest generation of flexible RVV cables manufactured at ZW Cable provides improved features that cut the energy consumption, weigh less, and take up less space. Modern machinery such as robotics and industrial machines operate on a 24/7 basis, requiring constantly repeated movements - sometimes tens of thousands of times per day. In order to facilitate these movements, you need reliable flexing cables that are capable of withstanding thousands of movements without breaking. The movements not only put a strain on the internal mechanics of the machine, but they also affect the wiring structure.
Henceforth, you need cables that are specifically designed for prolonged, repetitive movements. Many engineers spend time optimizing the machines but don't pay enough attention to the cable selection and making sure their cables are sized right. This is why cabling on machines tends to malfunction often, leading to failures in the operation of the machine. Studies have shown that nearly 50% of the quality issues related to machines are directly linked to cables. This is why you're going to need flexible wire to get the job done. The following are the top features of a flexible wire:
· 1) Conductor
Description: The conductor in a flexible cable is usually made of copper. The conductor is usually solid or stranded/flexible. There are between 1 and 5 cores, depending on the cable.
· 2) Jacket
Description: The 'jacket' of the cable or the insulation is the protective coating applied over the conductor. In the case of RVV cables, they have plastic PVC protection using polyvinyl chloride. This material is fire-resistant and also resistant to other chemicals such as oils.
· 3) Sheath
Description: Depending on the cable, it can be non-sheathed or PVC.
· 4) Flame Resistance
Description: Each RVV cable is designed to be flame-resistant. They have a high thermal rating and can withstand extremely high temperatures. RVV wires are available in different temperature modes such as 70°C, 90°C, 100°C, 150°C, 200°C, and 250°C. In the event of a fire, the impact is minimal.
· 5) Voltage Ratings
Description: The most common voltage available for flexible wires is 450-750V or 300-500V.
· 6) Colors
Description: RVV wires are manufacturing in a number of different color options, to make it easy to differentiate them. ZW Cable's flexible wires are available in black, white, brown, yellow, blue, red, and multi-color.
Note: Flexible cables are designed to be used in dry applications, despite the high weather resistance. They can be found in house electronics such as radios, lamps, portable appliances, office machines, hairdryers, etc. They can occasionally be used for double insulated appliances if the cord is not put under heavy movement.
Top Flexing Characteristics Of Cables
What makes certain cables such as RVV cables better than regular cables? The answer: The flex life of the cable. The 'flex life' of a cable determines how much movement the cable can take before it's seriously damaged. Virtually all cables can flex and bend to a certain degree. However, this doesn't guarantee they won't snap under pressure and become damaged.
Flexible wires such as RVV cables stand out by offering a high flex life that guarantees repetitive and regular bending won't affect the cable's functionality. This ensures that you'll have a reliable power supply and/or electric data transfer for your machines.
The bottom line is this: If you need a cable that is going to be subjected to constant movement, your best bet is to go for a cable with a high flex life.
ZW's RVV cables are designed for continuous flexing where you want to preserve the circuit's integrity over the long term. The distinction between low flex life and high flex life cables comes down to daily application. If you know that the cables are going to move often, you must purchase a cable that has a high flex life. For instance, if the cables will be used to automate factory operations and/or industrial machines, you will need cables with a high flex life.
Warning: If you don't purchase a cable with a high flex life, flexing can cause serious damage to your cables and wiring system. Picking cables that weren't designed with flexing properties can lead to malfunctions such as internal conductor shutdowns, erosion of outer jackets, tearing, friction, over-heating, and more.
This not only decreases the lifespan of the cable, but it can also cause functional failures in the machines. Eventually, you have to replace the cables and suffer downtimes caused by cable breakdowns. In order to avoid all this, you should purchase cables with a high flex life such as RVV cables made by ZW Cable.
Flexible Cables FAQ (Frequently Asked Questions):
Q: What Stranding Should A Flexible Cable Have?
A: When you're on the market for a flexible cable, you want to get a cable with a high strand count. The stranding is what makes the difference between a cable with a high flex life and a cable that breaks down after a month of use.
The general rule of thumb is that the more strands in a cable, the more flexible it's going to be - leading to an increase in longevity. The most effective configuration for flex cables is a rope lay which is present in our cables. While rope lay cables are slightly more expensive than regular PVC cables, the increase in endurance makes them worth it.
Q: How To Determine Which Flexible Cable Is Right?
A: There are a few indicators that can help you make your decision. The most important indicator is the dialectic strength of the cable. If the cable has high dielectric strength, this means that there's going to be less material on the cable which increases flexibility. It's also wise to pick a cable made of soft materials with a odometer of 70-80. If you have a softer cable, it's going to be more lightweight which means it will bend and flex easier.
Q: What Materials Are Best For Flexible Cables?
A: The materials used in flexible cables are called 'strength members' - these are individual parts of the cable that enable it to function optimally while flexing, and preserve the circuit integrity of the cable. These materials include steel or fiberglass rods which are usually located in the center of the gable. If the materials used on your cable include any of the aforementioned, you're going to have a cable that can withstand heavy pressure caused by pulling, vibrations, bending, rolling, and more.